RAF Desborough Solar Park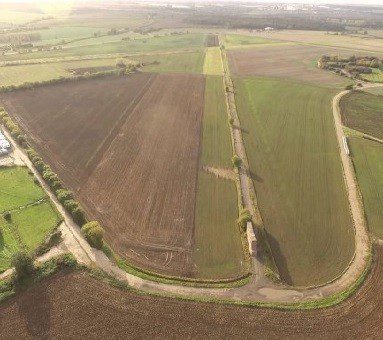 Project management of a complex site full of archaeology and cultural heritage.
RAF Desborough Solar Park is considered to be the largest Solar Photovoltaic Park in the country, covering over 100 hectares.
The site makes use of the disused airfield for renewable energy, while conserving the runways and buildings which survive in situ in memory of the Second World War use of the RAF Airfield.
Not only does this site contain the visible reminders of modern heritage, but it also contains buried remains of ancient activity. Furthermore, the site is surrounded by heritage features of the prehistoric to modern periods; many of which hold statutory designations.
AB Heritage successfully provided a strategy to allow for this substantial development amongst these significant heritage features, by minimising the level of potential impact through redesigning the site in close consultation with the local authorities and the client.
Preparing thoroughly for Planning…
At the outline stage of planning, AB Heritage produced an Archaeological Baseline Assessment which identified over 230 cultural heritage features which may be subject to direct or indirect impact as a result of the development of the proposed Solar Park.  The client was able to progress to a full planning application, fully informed of the potential risks which may be involved regarding cultural heritage.
AB Heritage advised the client that geophysical survey would provide more clarity on the level of previously unrecorded archaeological features, and therefore allow further work to be more targeted to the locations of known archaeological features, which would save time and costs to the project. This was implemented across the site, as AB Heritage's largest survey to date.
AB Heritage contributed further by providing a chapter on cultural heritage for the Environmental Impact Assessment, incorporating the results of the geophysical survey. The impact upon each of the 230 previously identified features was assessed in detail, and reduced to a list of just six.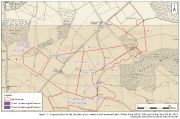 It was concluded, that after the implementation of suggested redesign measures, the impact of the development upon these few features would be minor. AB Heritage's consultation with the local authority allowed the client to be prepared for the outcome of the planning decision, which was approved with an expected condition for further archaeological works.
Archaeological works limited the project risk associated with the late discovery of unidentified heritage…
As such, mitigation against the direct impacts of the proposed development consisted of evaluation trenching at Desborough Airfield, which was undertaken by AB Rubicon Heritage. A total of almost 9000 linear metres were investigated in over 200 trenches across the site.
As a result of the works undertaken by AB Heritage, there were no unexpected or post-determination costs and delays relating to cultural heritage. Meanwhile, the value of the surrounding historic landscape was maintained.
Images.Top: Aerial view of the whole site. Bottom: map of the site showing planned works.