Archaeological Evaluation, Putney
Discovering London's prehistoric past is important as the level of development prior to the 1990s, destroyed much interesting and important archaeology.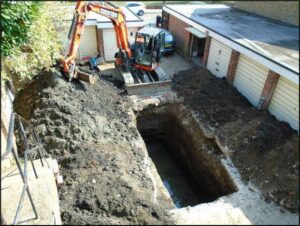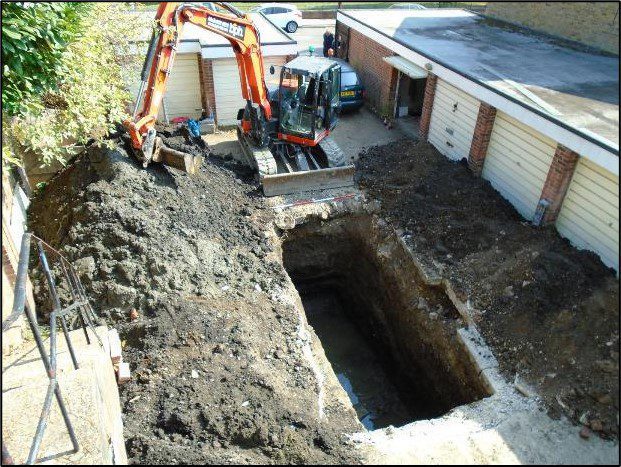 AB Heritage was approached by a client to provide an Archaeological Evaluation for residential redevelopment in Putney. The client had been granted planning permission, but with the condition that an archaeological evaluation took place after a previous report suggested that the site had a high chance of yielding Prehistoric remains. This was because the site lay at the conjunction of the Thames and Beverly Brook, where human activity was known to have taken place. There had been a discovery of nearby Mesolithic/Neolithic flint working, and a further 25 other prehistoric finds associated with the surrounding area.
Focused, Minimal Works
The archaeological evaluation took the form of a trial trench, with one trench being dug measuring 5m in length and 1.8m in width. The depth stopped at c. 3.1m due to practical and safety reasons. There were three deposits recorded overall.
The first deposit contained sparse pieces of glass, metal and bone, as well as sporadic blue and white China being seen throughout the layer. A single piece of worked flint waste was found and roughly dated to the Neolithic/Bronze Age. An abraded sherd was also found.
The second deposit yielded a largely complete 19th century white glazed ceramic jar, identified to have come from the Maling pottery company.
The third and deepest deposit revealed a single piece of burnt flint, determined to be a flint pebble.
No Significant Archaeological Interest
Other than these four artefacts, no other finds were found. The artefacts recovered were not retained due to their lack of archaeological interest, and the site was given the go ahead for the housing development to commence.
By appointing a professional Heritage Consultant to plan and manage the archaeological works, our client was able to ensure that the most targeted and cost-effective work was undertaken to satisfy planning conditions. AB Heritage consultants are all highly experienced field archaeologists and can bring this expertise to bear on the design and planning of fieldworks undertaken.
Read more:  Meet the Team   I  Our Services   I Our Blogs