Northallerton Garage, North Yorkshire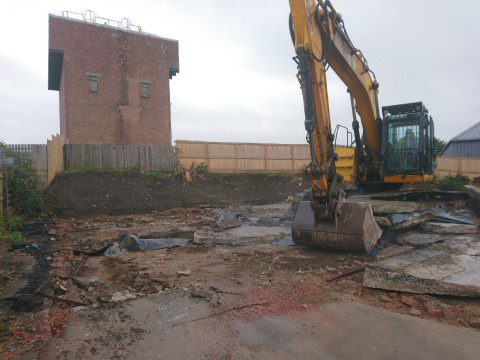 A Hazardous Site with Potential for Archaeology and Human Remains.
In 2019 a former vehicle repair and testing garage located on the edge of the historic core of Northallerton in North Yorkshire, suffered irreparable damage and needed to be replaced.
Northallerton was a prominent town from the medieval period as a residence for the Prince Bishops of Durham and included a palace a castle and a very prominent church. Previous and recent archaeology works close by had excavated the remains of a monastic friary, including human remains. AB Heritage was commissioned to investigate the site, so that planning application could be submitted without archaeological constraints.
The client was not a developer and had never had to contend with archaeology before. AB Heritage worked with the client's team to demonstrate that the process need not be complicated or bureaucratic and engaged closely with the Local Planning Authority and the North Yorkshire Archaeology County Service to design and execute a controlled Strip Map and Record of the entire site.
The detailed report of the work showed that the site had been extensively quarried in the 19th century, and that no archaeological features or deposits survived within the footprint of the site.
Pre-Planning works ensured the client's application was processed with no archaeological planning constraint
The works meant that the subsequent application for the redevelopment of the site could move ahead without any archaeological constraint. The report was provided to the County Historic Environment Records to update their own records and to log our work for future research purposes.
Efficient, well-managed archaeological works assisted Client's complex project needs
Owing to the unsafe nature of the damaged building, time was key to ensuring a swift and controlled demolition. AB Heritage worked very rapidly to produce a Project Design for the works that was suitable for the needs of the Client the LPA and the archaeology.
The whole process from initial contact with the Client to the production of the final report was swift, with the project being completed in less than six weeks. AB Heritage's focus and commitment to clearing the archaeological obstacles, allowed the Client's team to concentrate unhindered on their design works for the replacement building, saving time and resources while providing for an easier planning application process.
Read more:  Meet the Team   I  Our Services   I Our Blogs