Newcastle-upon-Tyne Office Opens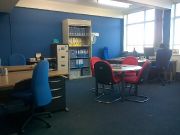 With an increasing portfolio of works, AB Heritage is pleased to announce the shared opening of our newest office, in Newcastle upon Tyne, with our associate consultancy, Shoney (Seonaidh) Wind Limited (SWL). Providing works across the North of England and Scotland our new office is a natural progression in the company's development, supporting the already strong delivery of our professional archaeological and heritage services across the UK.
Together with our AB Heritage's offices in London, Swansea and Taunton, our northern office is exceptionally well positioned in allowing us to further assist our clients manage project risk in relation to archaeology and built heritage.
Of the new office opening, Andy Buckley, AB Heritage's Managing Director, said "We are excited about this new opportunity to expand our business and continue to serve our customers across the United Kingdom, making a real difference to our clients schemes. The close links with our associate consultants at SWL will also provide both teams the opportunity to further assist or clients in the renewables and wind energy sectors.
Our new office is located at:
Office 8, North East Office Block, Swan Hunter Yard,
Station Road, Wallsend, Newcastle upon Tyne, NE28 6EQ
For details on our services, please email us at info@abheritage.co.uk, or alternatively call us on 03333 440 206