Is Heritage Sector facing a crisis?
With major infrastructure projects planned across the UK, which threaten to absorb previously unimagined levels of archaeological resource, what impact will this have on other construction projects requiring archaeological investigation? What are the implications for the archaeology sector, for jobs, the profession and UK construction as a whole? These were the questions being addressed by the London Group of the CIFA  (Chartered Institute for Archaeologists)  during a discussion and debate evening held on 13
th
 September 2017. Speakers included archaeological and planning consultants along with CIFA. The floor was made up of other professionals from across the heritage sector including consultants, project managers, field staff and archaeology specialists.
What crisis?
In the 'Age of Infrastructure', where the construction industry is dominated by major projects including road schemes, airport expansion, nuclear power stations and major rail infrastructure such as HS2, there is a shortage of archaeologists and specialists to address the heritage requirements. And with large numbers of the workforce assigned to major infrastructure projects (with the A14 alone taking over 200 field archaeologists on site at its peak; not including back office teams of specialists, managers, find processors, report writers etc), who will remain to deal with the other projects – the odd archaeological watching brief? a small-scale excavation? Experienced archaeologists are a finite resource and, as an industry, resourcing is already in short supply. Workforce mobilisation delays are becoming increasingly apparent in a number of archaeological fieldwork companies, with many not able to conduct site work without a significant lead in period. Some suggest that we should train up a new workforce. Kate Geary reported on the work the CIFA have been doing to encourage new avenues into archaeology and the Historic Environment sector, including apprenticeships and trainee schemes, and the benefits available for construction companies to have such training schemes on their sites. She sees this crisis as an opportunity; an opportunity to fund new training schemes; an opportunity to fund more specialists; an opportunity to raise wages and improve working conditions across the sector… a 'make hay while the sun shines' approach to what others see as a looming staffing crisis. Others were more cynical of the idea of throwing hundreds of newly qualified archaeologists at the problem, fearing a future job market flooded with unemployed archaeologists. There is a general feeling that 'what goes up must come down' – perhaps through bitter experience of the 
credit crunched
 industry following the global financial crash of 2008 and the uncertainty of a post-brexit world.
So how should we approach the resourcing 'crisis' and what is the take-away message for Developers?
Without wishing to resort to management speak, the over-riding message of the meeting for archaeologists was '
do less; but do it better'
. We need to reassess the works that we do and focus on our primary reasons, targeting what we do and identifying those key sites where important information would be gathered to further our knowledge and understanding of the Historic Environment. For developers, it remains that it is never too early in a project lifecycle to consider the impacts from heritage.
How can this 'crisis' be avoided?
At AB Heritage we pride ourselves on being an independent heritage consultancy. We never recommend fieldwork unless it is nec
essary. We don't operate an in-house field team, so clients can be assured we recommend only those works that are proportionate. When works are required, we carefully select a team of sub-contractors from our approved list of suppliers who meet our company values. Our professional heritage consultants monitor site works to ensure that fieldwork is delivered on time and within the agreed scope of works. 
No scope creep = no delays = no spiralling costs
.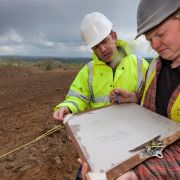 Early consultation is paramount for successful management of a site with heritage /archaeological constraints. By instructing AB Heritage at the outset of a project, we can identify archaeological risk and provide advice to help avoid potential hurdles later in the planning process. Additionally, if site works are required- these can be timetabled in early in the process to avoid costly delays to the project programme. With a limited number of experienced archaeologists spread across construction projects resulting in longer lead-times and turn-around, it really will be a case of 'the early bird catches the worm'.