Heritage & Regeneration – Balancing Renewal with Sense of Place
Latest announcements from Government describing the reform of the planning system in England, designed to boost the provision of housing, will come into force in the Autumn of this year.
Reforms are set to include changes to permitted development rights to allow for Permission in Principle on land earmarked for renewal and growth and changes to allow upwards extension to existing buildings.
Government plans retain protection for heritage and archaeology under conditions within the planning process. Crucially these protections will ensure that heritage buildings remain a key pillar in the development of new vibrant spaces in our cities, towns, and villages.
Below we look at some of the issues that developers and other stakeholders should consider when factoring in heritage works as part of urban regeneration schemes.

Local Character and a Sense of Place
Many towns in the country have suffered economically since post industrialisation. This led in many cases to significant adverse changes in demand for space in key historic buildings such as former mills, warehouses, and wharves. Town centres also suffered with a severe drop in footfall on our High Streets. Despite these privations, a great many of our historic buildings survive and remain cherished landmarks within their communities, providing local character and unique sense of place.
The very best modern urban developments have repurposed older buildings alongside new builds, to present bold new visions and sense of place for communities to share into the future.
A key message from developers of successful regeneration schemes is to build a highly skilled and motivated team of experts early in the process, that can effectively communicate the vision of the development to all stakeholders – be they financiers or local authority stakeholders.
Urban regeneration projects should bring the local communities on board. Seeking the views and desires of what the host community would like from regeneration, can provide designers with innovative ideas of how existing heritage buildings can be incorporated within exciting new schemes. Schemes that gather the ideas and vision of a wide range of stakeholders will inevitably be stronger for it, producing developments that create and enhance a sense of place. (Image: Lockside Mill, Greater Manchester)
Re-purposing for Sense of Place
The ability to successfully re-purpose older buildings for modern, sustainable purposes can be key to their long-term viability and can add to the economic life and social cohesion of a place.
When designing wider plans, consider whether your regeneration plans avoid standalone 'nice' historic buildings being conserved but within an island of inappropriate development, isolated from any real context and community purpose.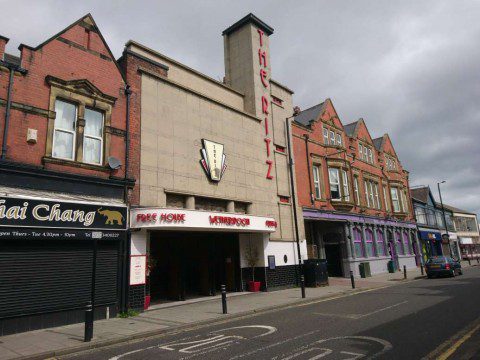 The Ritz Cinema in Wallsend (right) is a great example of how to do it correctly, where an important Art Deco Cinema that had come to the end of its commercial life as a cinema and bingo hall was converted into a Wetherspoon's Pub utilising the impressive historic character of the building itself along with adjacent properties to really boost the attractiveness of the development, while creating a more impressive streetscape.
Historic buildings can and should be used to inform and encourage rejuvenation of wider areas around them, bringing economic and social benefits to the host community.
Re-purposing for the Environment
Studies have shown that demolition and clearance requires the expenditure of resources and causes the release of carbon that is locked within old buildings at a cost to the environment. By re-purposing, developers can utilise the materials and design that has already been established and can add environmental value by bringing modern technologies to bear that will further decrease the carbon footprint of a development. (images below: left: St James Development Edinburgh, site for a John Lewis, Middle: Bristol development which has responded well to the adjacent historic buildings and right: The Bull, Gun Quarter, Birmingham, 1800s historic pub in unrelated modern streetscape)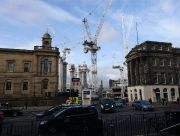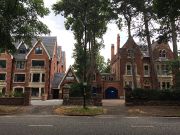 Heritage Factors within Regeneration Schemes
The planning system attaches 'great weight' to the conservation of designated heritage assets, including of their settings. Heritage setting is an amalgamation of several factors and considerations including:
• Urban grain
• Skylines
• Massing
• Streetscape and character
• Material palette
• Surrounding heritage assets
Successful regeneration schemes will need to consider the points above as a matter of course.
By including an experienced Heritage Consultant such as AB Heritage within the project team, these issues and others can be addressed and turned into design strengths. A Heritage Consultant will be able to work with the design team to communicate the vision of the scheme to Local Authorities and statutory bodies to achieve the best outcomes.
Read More: Our Services