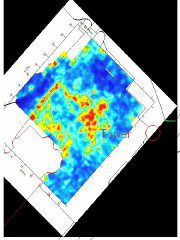 A timely Geophysical Survey can provide a clearer picture of both known and potential archaeology on a site, detailing factors such as the extent, nature and form of various below ground archaeology features. Various forms of geophysical survey can be undertaken, including Magnetometer, Earth Resistance and Ground Penetrating Radar, all of which are non-intrusive.
These works not only provide beneficial design guidance to the client and their development team but allow the projects heritage consultants to get an early appreciation of the potential impact of a development, providing valuable insight into below ground risk. Surveying is quick, effective and inexpensive and, when employed early, can help to limit, better target, or scope out altogether later costly intrusive archaeological investigation works.
Geophysics can also be employed at any stage of the planning process or combined with a range of other survey techniques (e.g. LIDAR or Topographic Survey) to determine the presence of features not always visible from ground level, with no requirement for intrusive excavation. You might like to also visit our case studies pages.
"Following on from the good work AB Heritage carried out on a previous site, we did not hesitate getting them in for our solar farm in Cressing. As usual they carried out the works within the tight timescales required, ensuring there were no delays to the project. We have received a comprehensive professional service throughout the process"
Andrew Wooltorton, Project Manager, Esc NRG
For fast turnaround on cost proposals: