A proposed development to a GII Listed house with Medieval roots, required partial demolition works and new build.
The required groundworks and installation of new utilities would have the potential to impact any archaeological deposits left within the site, so the Local Planning Authority required an Archaeology Desk Based Assessment to review the risk to meet planning legislation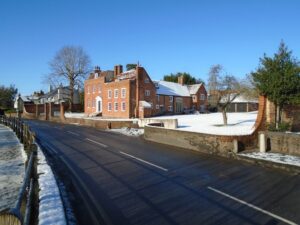 Locally, one of the oldest recorded properties
AB Heritage undertook a site visit to better understand the property within the Cobham Conservation Area.  Our Consultant was able to draw upon a variety of previous studies and assessments of local archaeology, which together with further historical research provided a good overview of likely impacts to this property – one of the oldest recorded in the area and originally a hall house.
The historical development of the site revealed Medieval and Post Medieval activity within Cobham and the development site. This included former buildings, evidence of ornamental garden layouts, as well as possible malting and tannery processes within the site boundary.
A proportionate approach to mitigation was recommended.

As a result, AB Heritage concluded that there was a medium potential for the survival of archaeological deposits relating to Medieval periods associated with former construction and landscaping within the site boundary. The Impact Assessment concluded that the proposed groundworks which would include the grubbing out of foundations, the digging of new foundations, service trenches, and landscaping works would result in a direct but low degree of harm to the potential, remaining archaeological resource. It was therefore recommended that a watching brief, carried out during the proposed groundworks would enable further investigation and recording of any archaeological deposits which may be encountered. This minimal approach to development works was considered proportionate given the likelihood of surviving archaeology and was in line with the NPPF and local guidance.
For our client it meant that, with approval from the Local Planning Authority, development works could proceed to plan, with important heritage safeguards in place.