AB Heritage Limited moves to the Jarrow Business Centre to support Northern Growth Plans
The company has enjoyed year on year growth since its launch in 2009, and now employs ten permanent members of staff providing a UK wide service. Managing Director Andy Buckley, who is originally from South Shields, puts this success down to the company's business model, explaining that while many archaeology companies are geared towards undertaking on-site archaeological works immediately in advance of construction, AB Heritage works with its clients from the outset of a project to identify any potential archaeology and the opportunities to avoid such constraints, saving the client time, cost and project risk overall.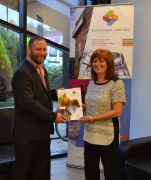 In explaining the reason for the move to the Jarrow Business Centre, Andy said "the region is a real success story, attracting significant investment from Government, private enterprise and EU sources, including billions of pounds of direct investment for regeneration and infrastructure. Having being brought up in the area myself I know only too well how much this area has to offer, and how important it is for AB Heritage to have a base here, providing a professional team with local knowledge on the doorstep of our customers."
Cllr John Anglin, Lead Member for Regeneration and Economy at South Tyneside Council said: "It is great news that AB Heritage has chosen Jarrow Business Centre as the location for its North and Scotland Regional office. South Tyneside is a great place to invest.
"As a Council we are committed to helping businesses grow – providing jobs and opportunities for local people and helping to boost our economy. South Tyneside is perfectly positioned for businesses to take advantage of transport links to the rest of the North and beyond.  I'd like to welcome AB Heritage to the Borough and wish them well in their new regional office in Jarrow."
Professional archaeological consultant Dan Dodds, formerly of Channel 4's Time Team, will be heading up the new office, working to grow AB Heritage alongside other enterprising local businesses. The signs are already good, on the back of major wins, including the A9 Dualling Project in Scotland, Dan anticipates new jobs will be created in Jarrow later this year, complementing the existing offices and continuing to provide AB Heritage's trade mark, early stage heritage advice to planners and developers.