AB Heritage invited to Speak at the RTPI Autumn Law Update
To an audience of around 50 planners, developer and allied professionals, Andy Buckley presented the benefits of managing the historic environment at the earliest stage of development to avoid costly delays.
The seminar was hosted by Ward Hadaway in their Newcastle offices on behalf of the RTPI North East team and examined the important developments in planning law and practice in 2016/17. It covered the key issues arising from the management of development with presentations from speakers of national standing.
AB Heritage was invited to speak about how planners and developers could better manage aspects relating to heritage. Andy Buckley challenged to audience to think more carefully about their development sites, both Greenfield and Brownfield; to think about the impact archaeology and built heritage could have on the progress of a development and how they could avoid issues arising from the outset. He used real-life case studies across the UK and recent press coverage of where developments had been badly affected by heritage, due to lack of proper preparation.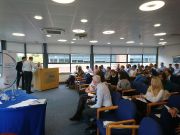 AB Heritage has been invited to provide CPD presentations to organisations and companies across the UK. Managing Director Andy Buckley said "We know that when clients engage with us at the earliest stages of their development we are able to provide the greatest value. If we can work with our clients' teams at pre design / pre-planning stage, we are often able to significantly reduce the impact of archaeology on site. We undertake to run these CPD sessions for clients to debunk some of the misconceptions about Archaeology and provide a useful framework to help manage archaeology as part of a successful development. We are happy to discuss running tailored sessions for clients, and anyone who is interested, should email info@abheritage in the first instance."
End.